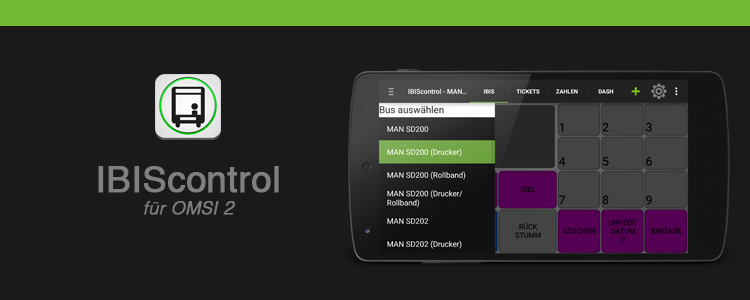 IBIScontrol for Android makes it possible to control IBIS, cash desk and ticket printer in OMSI 2 (by Aerosoft) on your smartphone or tablet.
New Installation Method
The current version comes with an updated installation method. Before installing please remove all existing IBIScontrol files and folders in the OMSI2/plugins folder!
Features: -IBIS -Cashdesk -Ticketprinter -Dashboard with speed, door control, control for lights, temperature, next stop, stop request etc.
Supported maps: -All
Supported busses:
Supported Currencies: -DM -Euro
In case of trouble or questions, you can contact me via email. Errors can be reported at https://github.com/gcWorld/IBIScontrol-Bugs/issues
Changes in 1.2.4+200
Fixes a crash during gameplay when signals are active but the dashboard view is not selected
Changes in 1.2.2
O530G (4 doors) - 4th door was not correctly implemented. This has now been fixed.
For this update a new plugin update is also required!
Changes in 1.2.1
Support for the euro version of the NG272
compatible with Android 6
System Requirements
Android
Windows
To uses this app you also need a plugin for OMSI 2 which you can download via the "Download" button.
In case of Problems
Possible solutions:
A firewall blocks the connection. Please add an exception rule for the file node_id_gcw.exe in the folder /OMSI 2/plugins/IBIScontrol_data
Antivirus software may block the connection
Activate the function "Alternative Port (8080)" in the app settings and the plugin window.
Pictures